The New Avishkaar Challenge
"Robots To The Rescue"
After the grand success of Robo Games 2018 challenge, we have come up with yet another exciting Avishkaar Challenge – "Robots To The Rescue". This Challenge is the perfect platform to showcase your skills in robotics and your Maker spirit. So, participate in the Robots To The Rescue and win exciting PRIZES.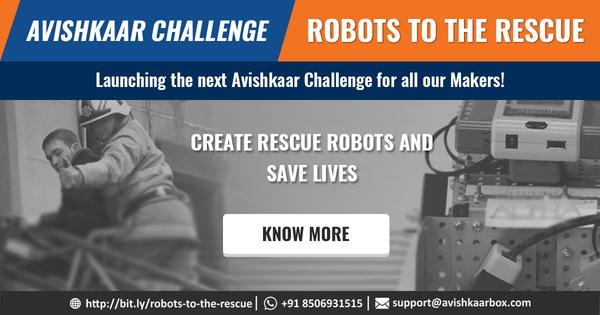 About Robots To The Rescue
A research says that more than 10 million people die annually due to fires in India alone. Now estimate this number worldwide. Even a lot of times the rescue team and firefighters also get injured or they lose their life.
So we thought – why don't our Avishkaar Makers become superheroes to save the day?
And hence we came up with the idea of "Robots to the Rescue".
In this Challenge, you need to design a Robot for any of the given 2 categories.
The 2 chosen categories for Robots to the Rescue are:
Aqua Robot
Mobility Robot
Your Robot needs to be capable of performing missions as stated in the Guidelines. Read the Guidelines over here.
Whats new in this challenge?
This time our Avishkaar Makers –
Have two categories to participate in, i.e., Aqua Bot and Mobility Bot.
Each category has separate missions.
Each mission has individual tasks.
Includes objective scoring along with the subjective scoring.
You can participate in both missions and can submit different videos for each mission.
Judgement Criteria
Winners will be decided on the basis of the given Scoring Rubric –
Prizes for winners
The two winners (one from each category) will be felicitated with the title "R-ME: Best Aqua Bot / Mobility Bot", certificates, and medals at prestigious annual event IRC Nationals.
How to Enter the challenge
To participate in the Robots To The Rescue, you need to submit your video entry by clicking on the button below!
The robot must be made only with the Avishkaar Box kits available at www.avishkaar.cc/shop. Extra add-ons can be used only for the decoration not for the working / helping mechanism.
Last day to enter this challenge is 28th August 2018 (Tuesday).
Good Luck with the Robots To The Rescue Challenge!
If you have any query, feel free to write to us at [email protected]
Happy Inventing!
Team Avishkaar Box